Van Nie - Antique Dealer in Amsterdam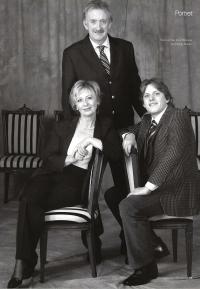 The construction of the Amsterdam metro in the seventies caused a lot of commotion in the city. But for Frans van Nie (age 52), who was born and bred in Amsterdam, it was an amazing period: "I was in school and archaeology had been a hobby of mine for years. All those construction sites were a blessing for me".
Frans was only twenty years old when he opened his first shop at the 'Kleine Gartmanplantsoen' near the 'Leidseplein'. He managed the business together with two partners. "We traded in Eurasian Antiques".
Everything in our shop is antique and everything is for sale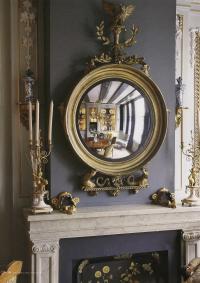 The Flemish Anne Woussen joined the business in 1995. Van Nie Antiquairs has been located at the 'Keizersgracht' since nine years. It's just around the corner of the 'Spiegelstraat', in the heart of the Amsterdam antiques area. The seventeenth century canal house, where Van Nie established themselves nine years ago, is filled from the basement to the cellar with antiques. There are elegant chairs polished cabinets, magnificent cupboards and display cases, and big gilded mirrors and fine specimens of paintings are hanging on the walls. The ground floor and the basement, together about 180 square feet, form the basis of the shop. However, that is not nearly all. The living space of the family is situated on the first floor. Nevertheless, everything in the living room and in the dining room next door is for sale. Anne: "We do not feel that it is unsettling. Quite the opposite; we think it is fun because now we have different and very fine objects in our home time and time again".
Innovative combinations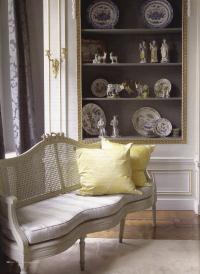 Anne, originally collecting design dating from the sixties, is considered within the company as the expert in fabrics and its combination with antiques. Not infrequently does she choose for a striking fabric when it comes to the upholster of furniture, which gives the chair or sofa a contemporary look. Like the black and white striped fabric of 'Dols & Co' on elegant Louis XVI chairs. It is characteristic of Van Nie Antiquairs; a traditional business, but also very individualistic and innovative at the same time.
In the living room on the first floor van Nie shows us, in an impressively panelled front room, his collection of delftware. Woussen: "Delftware does not only exist in blue, it exists in all kinds of colours. Yellow is my favourite colour because it is so sophisticated". There is a lot of antique Wedgwood to be seen as well. They are very popular. Frans van Nie: "We distribute to a shop on Madison Avenue, New York. Both Ralp Lauren and former mayor of NY, Giuliano, own table ware that comes from us. Especially eighteenth century Wedgwood is in want, even if they have to pay up to thirty or forty thousand euro for it". Designer Valentino also bought a lot of Delftware at Van Nie. Anne Woussen: "There are a lot of collectors, Jerry Hall for example, and the wife of Giscard d'Estaing". Oprah Winfrey bought furniture at Van Nie and Mick Jagger was in the shop recently.
Antiques
Call Van Nie
+31 (0)20 62 61 594