BRAFA - Brussels Antiques & Fine Arts Fair 2009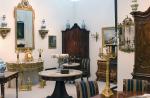 Tour & Taxis

Havenlaan 86 C / B
1000 Brussel
BE
BRAFA - Brussels Antiques & Fine Arts Fair 2009
23 Jan 2009 - 01 Feb 2009
Brussels Antiques & Fine Arts Fair returns for the 54th event with a new name and an increased international focus, from 23rd January to 1st February 2009
October 2008 - Belgium's oldest and most important antiques fair Foire des Antiquaires de Belgique will take place this January at the central Tour & Taxis site in Brussels, where it was successfully re-located in 2004. A new name for 2009 'Brussels Antiques & Fine Arts Fair' (BRAFA) reflects the increasing international focus as year-on-year the fair attracts more exhibitors and visitors from Europe and further afield.
The fair has become a benchmark event for European art markets, boosted in the last decade by the presence of the European Commission which has contributed significantly to the importance of Brussels as an international centre.
130 Belgian and foreign exhibitors will be sharing 12,000 square metres of exhibition space at the prestigious Tour & Taxis development in the heart of Brussels. The site was an important trading centre in the early 20th century and is steeped in architectural and cultural history. The grandeur of the buildings creates a unique environment for an event of its type, something which is unanimously acknowledged and appreciated.
Antiques
Call Van Nie
+31 (0)20 62 61 594